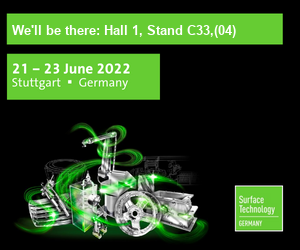 The IGOS team is looking forward to meet you at the Surface Technology exhibition from 21 until 23 of June 2022 in Stuttgart.
IGOS has been participating in this show for the surface treatments industry, originally held at the Stuttgart exhibition centre under the name of "Galvanika" and later "O&S", since the very first show.
At the 2022 Surface Technology in Stuttgart we will, as you would expect, be available for you if you have any questions.
The focus this year will be the presentation of our services in the field of damage analysis and our greatly expanded offer for corrosion tests.
We will be pleased to explain our services to you in Hall 1, Stand C33, (04) and looking forward to meet you there. Tickets can be ordered free-of-charge at info[at]igos.de.
Additional information about the Surface Technology 2022 can be found at http://www.surface-technology-germany.de.